All you've always wanted to know about national payment networks
National payment networks process electronic transactions within a national territory.
Inhabitants of a given country usually own one credit or debit card to pay in stores, and one or more international payment cards for purchases when are travelling abroad.
In other scenario, like in France or in Belgium, consumers usually have a co-branded card, allowing them to pay locally using the domestic network, and using the same card for payments outside their country.
Besides geography, what differentiates the domestic schemes from international payment schemes is the amount of fees per transaction. Merchants will be more likely to choose a terminal that supports not only Visa and Mastercard, but also the national payment scheme operating in their country. They would also embrace global payment systems enabling their customers to use their preferred payment method (e-wallet, QR Code, contactless wearables).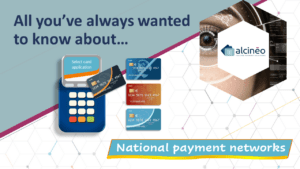 The advantages for payment solution providers offering payment terminals that support both international payments and national payment networks is that they benefit an extended deployment market. Moreover, financial institutions and banks also drive the adoption of local payments systems.
Challenges : development, integration and certification
When developing a new payment terminal, manufacturers need to implement the local payment schemes present on the markets they target to deploy their products in. 
Would you like to read more about the steps to go-to-market ?
Do you have any question about national payment systems integration ? Feel free to contact us : info@alcineo.com