Alcineo presents digital innovations at IT Trans
bringing new perspectives for the public transport sector
Alcineo (21/04/2022). Alcineo will be attending IT Trans 2022, the leading and international conference and exhibition focused on IT solutions for public transport.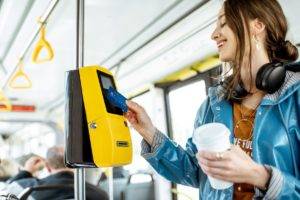 Specialized on payment software and logical security procurement, Alcineo will present their range of products and solutions dedicated to EMV technology integration to transit fare collection systems.
Focus on open- loop payment
Based on EMV® technology, open-loop payment offers many benefits for both transport authorities and passengers :
reducing operational costs
improving traffic fluidity
reinforcing data security
providing payment flexibility
Innovation technology in the public transport systems increase the level of services offered to passengers, enabling them use their mobile wallet or credit card to pay their ride.
To enable a seamless implementation of EMV technology in fare collection systems, Alcineo delivers a full software payment suite dedicated to the transit payment devices. From international payment schemes, domestic payment networks, to proprietary applications, integrators can customize their products according their targeted markets.
"Our mission is to provide contactless payment kernels that comply with the requirements of major payment schemes. There are specific requirements to process EMV transactions in the public transport networks, and we support our customers to enable them to certify and deploy their products at a rapid pace and cost-effective way" states Arnaud Corria, president of Alcineo.
Game-changing technology – SoftPOS
IT Trans is also an opportunity to discuss about SoftPOS. This new technology offers new perspectives in terms of fare collection and fare revenue in the public transport ecosystem.
SosftPOS is a software-based solution, turning any smartphone or tablet into a contactless payment terminal without additional hardware.
"Through technological partnerships and pilot programs participation Alcineo takes part in the development of next generation devices that will transform the infrastructure of the payment systems in the transit networks" states Arnaud Corria.